Architecture photography is photographing buildings and similar structures that are aesthetically amazing. Architectural photographers are usually skilled in the use of specialized techniques and equipment.
Is important that you know that architecture photographers and real sate photographers are not the same.  Real estate photographers look properties with the intention of making a sale. Architecture photographers, focused on capturing the aesthetic and intention of a structure in the most interesting, creative and unique way possible.
(MIAMI by Axel Santiago, License CC)
Here are some tips to improve your architecture photography skills:
1- Look around the place,  your subject isn't going anywhere so take your time to look around and discover the best angle, convergences of lines and perspectives to take the shot. The most obvious point of view is not the most interesting.
2- Use a tripod, it all depends of the situation and the photo you want to take but in some cases maybe you need to use a small aperture to maximize depth of field, which will need a slow shutter speed that make difficult hand-holding. Always bring a tripod to really avoid any chance of camera shake, is better have it and do not use that do not have it and need it.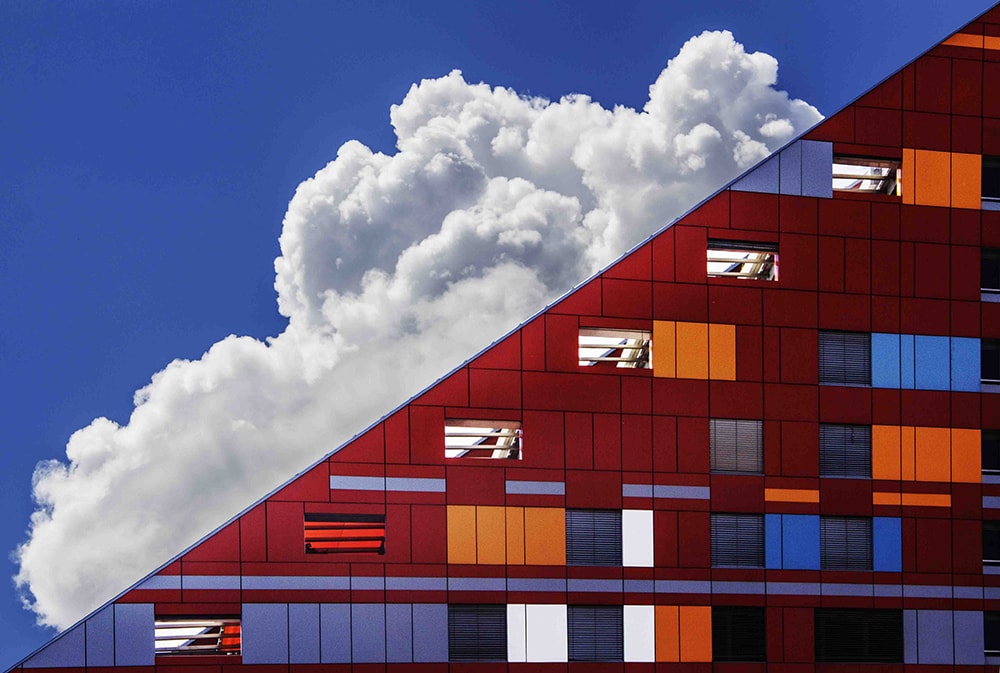 (Photo by Contrastly, License CC)
3- Optional – Add a human to the picture, if you add a human you would give a sense of relative scale of how big is the building. Be sure your human is dressed appropriately to the mood of the space. If it's an office building, he or she should wear business look.
(Photo by profilnet.gr, License CC)
4- Watch your White Balance, when you shoot at night or indoors, be aware that the color temperature of the artificial light can change the color of the architecture. This may not necessarily be a bad thing but it is something that you need to be aware of. Rather than using auto white balance, shoot RAW and use a color calibration kit such as the Datacolor Spyder 4 to get the most accurate color from image capture.
5- Use wide angle lens
6 – Take the shot
Suggest Gear for architecture photography:
Tilt-Shift (AKA perspective control) lens 
Nikon PC-E Nikkor 24mm f/3.5D ED
A Tilt-Shift lens projects an image that is larger than the area covered by the camera's sensor. When photographing architecture, a photographer shifts the front element to get rid of the "falling backwards" effect that occurs when shooting up towards a tall building, and uses the tilt feature to control depth of field.
Tripod: 
Dolica Proline 68″ Professional Tripod
MeFOTO RoadTrip Aluminum Travel Tripod
(NY by Axel Santiago, License CC)
Polarizing Filter
When photographing architecture, what's reflected on mirrors and windows is sometimes part of the story you're telling. But at other times, you'll need to eliminate reflections on windows, also if you want to make an long exposure shot and the sun is still out you can do it with the filter.
(Photo by Axel Santiago, License CC)
Adobe Photoshop 
To fix light problems and imperfections on the photos photoshop is great.
(Photos by Axel Santiago, License CC)